Condiment Dispensers – Zero Contact
11 Aug 2020, Posted by Blog
in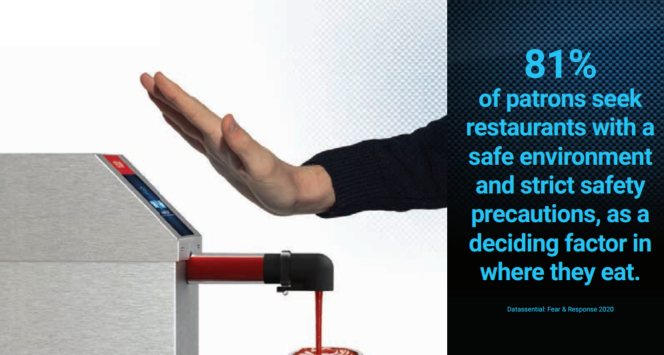 Remember to support neighborhood restaurants often, specialty restaurants regularly and really fancy restaurants as often as you can! Remember the local restaurant suppliers too. They keep local stock, eat in area restaurants and employee local folks. 
What is the Server Products Touchless Express?
A Zero Contact way to serve your sauces and condiments.
Single countertop direct pour.
Perfect for finishing, topping or filling ramekins. No more packets.
Why is the Server Products Touchless Express something for real strong consideration?
Safety! Majority of people are scared to eat out. A touch-free environment gives consumers confidence.
Money! Less waste. Up to 98% evacuation.
Safety! Cleanliness! Single point to clean and sanitize.
Quick video on the Server Touchless Express.
Download TOUCHLESS Express Brochure
. Pretty much all of us have grasped that COVID (anyone else get a tense feeling in their shoulders reading that word?) is around until….at least a long time. And even if there is a vaccine in say 6 months and even if we got every single person in the world vaccinated within 6 months and even if we returned to the hustle and bustle-ish of 2019 and before, are customer going to jump in their cars and go eat out? We do not have a crystal ball, but we have been around for long enough to know that consumer habits are in the process of adjusting and will continue to do so. We do not recommend waiting around for 2019 behaviors to return. Technology and Contact-less tools are out there. Pick one or two that make sense now. Talk about it. Post on social media about it. Tell customers why you chose it. Ask them what they think. Then when you can pick another thing. Do that. Find a local restaurant supply company. Find a sales person you like and trust. It is worth the time and effort. Tell them your priorities. Ask them to help. Find the local manufacturer's representative. Ask them to test equipment in person. Go to their test kitchen. We cannot speak for all foodservice manufacturer's reps but FHW is being very very safe. If you would rather have a video we are happy to oblige whenever possible.
YouTube.
Call us at 800-526-1126. Email
orders@fhwreps.com
if you want a budget quote or need to locate a local person / company to buy from. We have test kitchens in Houston and Dallas areas. We have onsite Chef and Culinary team members. Thank you for all you do. Things are hard right now. We want to help you. For real. Like seriously…a lot. How can we help you?