Hand Washing as Restaurants Reopen
29 Apr 2020, Posted by Chris' Corner
in
Who would have thought back in the beginning of March 2020 that  in just a few weeks much of the hospitality industry as well as many other service-based industries would be shut down or limited almost to the point of permanent closure?  We cannot be sure if this is our turning point or if there will be a second wave.  The hospitality industry has been resilient through most of the hardships thrown its way, but this pandemic will be the hardest obstacle to date.  Chefs, cooks, dishwashers, wait staff, mangers, owners and all those who support this system are made up of a ragtag group of individuals who survive with a strong work ethic to provide food options for rest of our society.  The best way to describe what we do is a labor of love since the pay is rarely exceptional. On May 1
st
, 2020, Texas Governor Abbot will allow Texas to begin a reopening process. The Governor and his Strike Force released guidelines to open Texas.  The guidelines will follow the priorities defined in the TRA's Texas Restaurant Promise.  Phase one will allow restaurants to operate at 25% capacity.  Phase two will come as soon as May 18
th
if the state does not see a "flare-up in COVID-19 cases".  At that point restaurants then will be allowed to operate at 50% capacity.  Also on May 1
st
 , Oklahoma Governor Kevin Stitt will implement the OURS Plan.  The plan is has less restrictions than Texas due to the lower number of COVID-19 confirmed cases.
Texans Helping Texas – The Governor's Report to Open Texas
Open Up and Recover Safely A Three-phase Approach to Open Oklahoma's Economy
Restaurants reopening are just on the horizon in Texas and Oklahoma.  This is time to implement new standards of cleaning to protect employees and customers alike.  Governor Abbott's executive order GA-18 outlines the minimum recommended health protocols for restaurants to reopen.  This checklist is a starting point and in no way should be the full extend of standards added to each establishment.
Minimum Recommended Health Protocols for Restaurants in Texas
Looks like social distancing will be around for a while, but hand washing is here to stay.  The new normal will be hand washing/sanitation stations readily available for customers and employees.  This does not just mean your sinks in the bathroom.  There will most likely start to be hand sinks as you come into the establishment, on patios and scattered throughout larger establishments.  Manufacturers such as
Lakeside
and
Cadco
have mobile hand washing stations that do not require plumbed waterlines.
The Lakeside Portable Hand Washing Cart
 is mobile solution that can be placed anywhere that there is a plug.  It come with water pump and optional water heater.  The unit holds 5 gallons of clean water and 7 gallons of waste water.  Lakeside hand washing stations are portable and fully self-contained for use in remote command centers and pop-up response applications.  Units are stainless steel for easy sanitation and use standard electrical.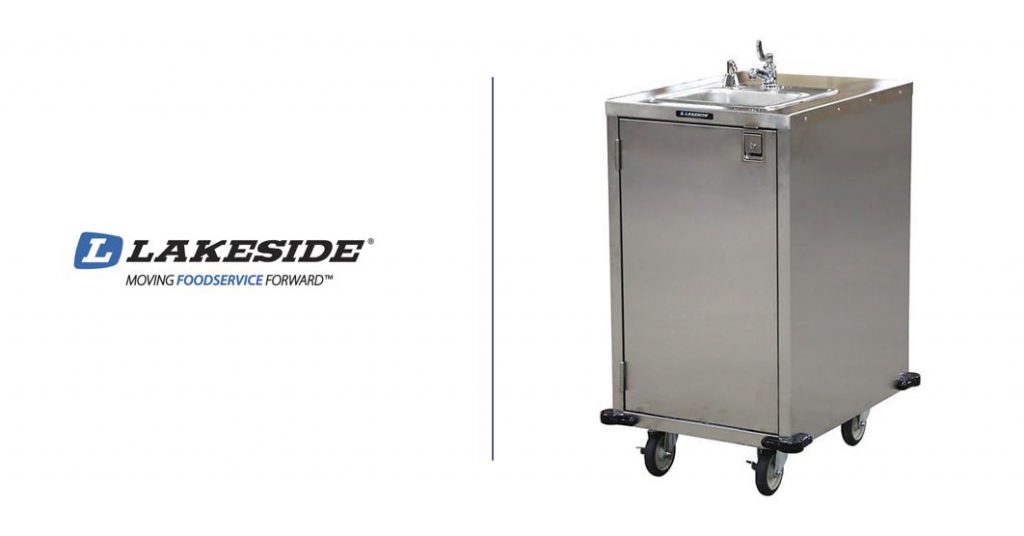 The Cadco Hand Washing Cart is the ideal solution for patios and areas where power is not available.  This hand washing station does not require any electricity or pumps to effectively wash hands. It catches the dirty water in a canister below the sink area. The user has the option of having, 2 side mounts for the corresponding soap and paper towel dispensers, making it compact and easy to use.  Both the standard and deluxe models have been engineered to use either Cambro Camtainers or Carlisle Cateraides to store and dispense hot water for hand washing.
The CDC recommends hand washing with soap and water because it is the
most effective
way to reduce the number of germs and chemicals on hands.  Hand sanitizer with at least 60% alcohol is an alternative if hand washing is not available.  Hand washing has been shown reduce more germs than sanitizer on its own.  Kitchen staff (those who handle your food) and servers should always wash their hands with soap and water.  As a food service professional I feel it is best for our customers and employees to wash their hands followed by using sanitizer instead of just using hand sanitizer.
CDC Hand washing and Sanitizing Guide
Hand washing is only effective if done correctly.  The CDC recommends the following steps every time you wash.
Wet your hands with clean, running water (warm or cold), turn off the tap, and apply soap.
Lather your hands by rubbing them together with the soap. Lather the backs of your hands, between your fingers, and under your nails.
Scrub your hands for at least 20 seconds. Need a timer? Hum the "Happy Birthday" song from beginning to end twice.
Rinse your hands well under clean, running water.
Dry your hands using a clean towel or air dry them.
The step most people fall flat on is the 20 seconds of scrubbing.  A simple solution has been provided by Antunes with the
HWT-20
.