Duck Fat and White Balsamic Peach Pie
01 Jul 2016, Posted by Chris' Corner
in
Summer is here and that means peach season.  Peaches are ready to be picked and there will be an abundance of them at the grocery store.  Enjoy this rustic recipe with a high end twist.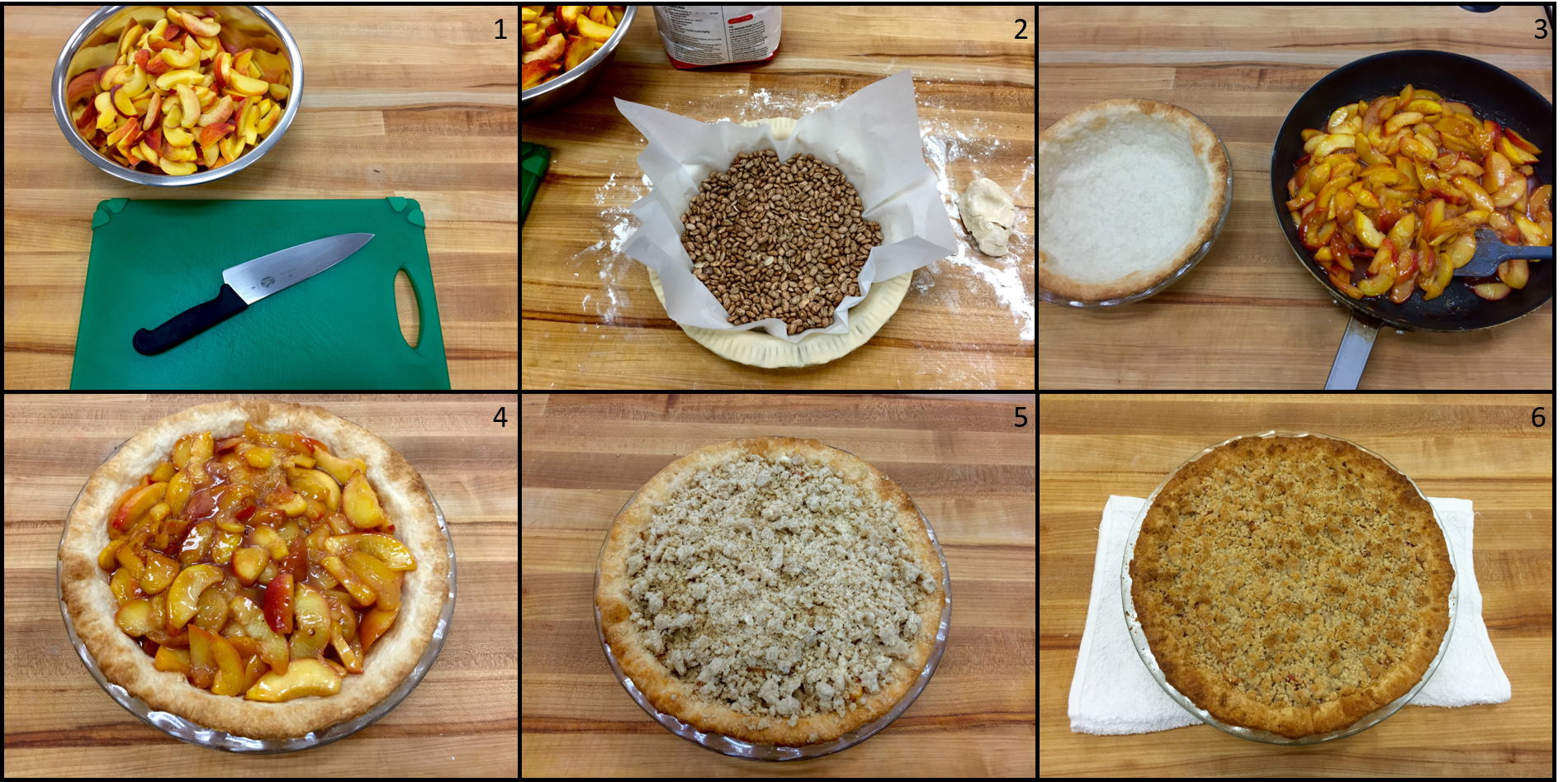 Duck Fat Pie Crust
Yields 3 Pie Shells Prep Time – 15 min Cook Time – 0 min Ingredients
3 cups Unbleached Flour
2 Tbsp. sugar
1 ½ tsp. Salt
3 fl. oz. Duck Fate
6 fl. oz. Lard or Shortening
5 fl. oz. Ice Water (approximately)
Instructions
Place flour, sugar, salt in food processor. Pulse 2-3 times.
Add Lard one tablespoon at a time. Pulse until mixture looks like coarse crumbles.
Pour mixture into large mixing bowl. Add water one tablespoon at a time while pressing in with rubber spatula.
When a large dough ball forms finish pressing by hand. Divide dough into 3 disks. Wrap in plastic. Refrigerate or freeze until needed.
Blind Baking Instructions
Roll dough out into a thin sheet.
Lay the dough into the pie pan.
Cut off the excess dough and crimp how you desire.
Place a piece of parchment pan on top of the dough and fill up with dried beans.
Bake at 425°F for 12 min with low fan.
Dough should be firm in the middle and light brown on the edges.
Pie Crumb 
Yields 1 Pie Crumb Prep Time – 5 min Ingredients
½ cup Unsalted Butter (cut into small pieces and cold)
1 cup Unbleached Flour
½ cup Brown Sugar
¼ tsp. Cinnamon
¼ tsp. Nutmeg
¼ tsp. Kosher Salt
Instructions
Pulse the ingredients in a food processor until crumbs form. Be careful not to over pulse.
White Balsamic Peach Crumb Pie
Yields 1 Pie Prep Time – 20 min Cook Time – 14 min Ingredients
15 Ripe Peaches (sliced into ¼" pieces)
¾ cup Sugar
½ tsp. Cinnamon
¼ tsp. Nutmeg
3 Tbsp. White Balsamic Vinegar
1 Tbsp. Unbleached Flour
½ tsp. Vanilla Extract
½ tsp. Kosher Salt
Instructions
Toss all the ingredients together in a large mixing bowl and let rest for 5 min.
Sauté the mix on medium-low heat until the liquid becomes a thick syrup.
Pour into a baked pie shell and add the crumb topping.
Bake in a convection oven at 400°F with low fan for 14 min or until the crumbs turn golden brown.